Baby Crayons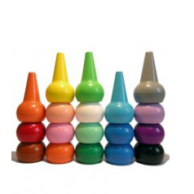 Does your baby love colouring but get frustrated with the easy-to-snap crayons that your toddler or preschooler uses?
You need to get your little artist these sweet stackable baby crayons that are the best thing ever!
Not only are they sized perfectly for little ones to stack and hold with ease, they're durable and great for colouring.
The stackable crayons are completely safe and awesome for improving fine motor skills and encouraging colour identification too. Yes, we're pretty sure you'll love how happy your baby is with these!