Balloon Balls for Baby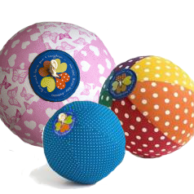 Balloons and babies go together but as every Mum would attest, balloons aren't the safest around little ones.
They cry buckets when they go "pop" and they can be a choking risk too. So, what do you do?
Get a ball, right? But what about when they toss the ball around the house and things go crashing?
That's why Finlee and Me mums love these adorably cute balloon balls that are super fun and can be used inside the house too!
Educational toys, like these balloon balls, are great for babies to develop motor skills, eye-hand coordination and have tons of fun too!