Baby Wraps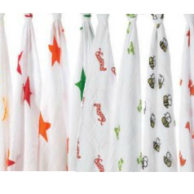 Natural muslin baby wraps have been the choice for generations to soothe babies to sleep – but never in such style! Hand selected baby wraps, also known as baby swaddles, take a traditional art and freshen it with contemporary prints. Like the comfort of a parent's arms wrapping reassure infants and help them relax into sleep. If your little one has trouble falling asleep or going back to sleep these baby wraps are perfect for cocooning them into dreamland. In fact, swaddling is one of the most recommended ways to deal with newborn sleep issues!
Baby Wraps – Cuddle Your Baby To Sleep
Help your baby feel snug, secure and prevent those little sleepy time frights with a superior quality 100% muslin soft and stylish baby wrap.
BROWSE ALL Baby Wraps