Funky Baby Gifts Ideas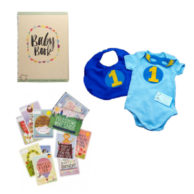 Finlee & Me do funky baby gifts with style! Whether you're looking for something that little bit different for a newborn, or you want to line up something special for your babies monthversaries, cool presents for little people come naturally to us at Finlee & Me.
What's funky in baby gifts?
Every month of you baby's life can be celebrated with our monthversaries collection.  Mark each month with a photo of your growing bundle with a onesie that tells the world just how old they are this month.  These onsesies grow with your baby.  With three gorgeous sets to choose from – Giraffe, Squiggle and Squiggle Solid – you've got yourself an awesome stand out present for your own bub or to give at a baby shower.