Baby Room Decor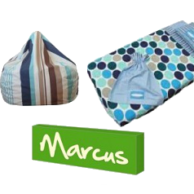 Baby room décor that is fun, functional as well as pretty and practical. Yes, it is what modern nursery decorating needs.
From funky wall art and gorgeous floor rugs to functional furniture like bean bags and chairs, you'll find it all. Want to add a touch of personality? Choose from personalised décor essentials, like birth detail cushions, night lights and more!
As a mum myself, I have to admit, handpicking baby room décor must-haves is one of my favourite things to do!
Don't forget to share with us which one of our decorative baby products you enjoy the most!