Bean Bags and Bean Chairs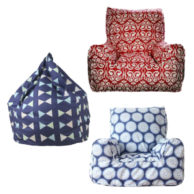 Bean bags and bean chairs are a must for fun and functional baby room décor. Perfect for snuggling up when reading and seriously stunning to look at, these beautifully designed bean bags and chairs will be ideal for toddlers and preschoolers too, making them a much-loved and well-used piece of furniture.
Crafted from ultra-luxe fabrics with stitching that's designed to stand wear and tear, these designer beanbags and chairs are perfectly safe for baby's room and are easily washable as well.
Yes, these nursery décor must-haves will make both your little ones and you very happy indeed! Oh did we mention, we can guarantee you'll love the incredible range of pretty prints?!