Closet Dividers for Baby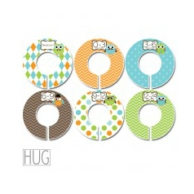 Want to get organized and have a cute yet functional closet for baby's clothes and accessories? Look no further!
These gorgeous closet dividers for baby closets will make great baby shower gifts and are just what a new Mum needs to sort baby's clothes for different age groups and never wonder "What should baby wear today?!"
Sweet styles, easy-to-use and practical too, go ahead and choose your fave design for these kids' closet dividers!