Personalised Birth Detail Cushions for Baby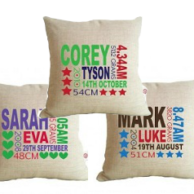 Welcome baby home and add a sweetly personalised touch to baby's room décor with these gorgeously designed personalised birth detail cushions.
Featuring funky typography and cheery colours, these birth detail cushions make wonderful keepsakes as well and includes all the must-remember details of baby's birth.
Not only will you love looking at them when baby's small, they'll adore and cherish them when they grow up!
Oh, and they do make absolutely fabulous baby shower gifts as well!