Kids Wall Art and Decor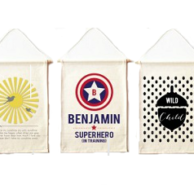 Add warmth, colour, fun and personality to baby's room décor with adorably cheery and cute kids wall art, like delightful banners, sweet birth detail prints and more.
Looking for kids wall art that will be perfect for baby's bedroom décor while also, being stylish enough for a big kid's room? You'll find that too here!
Like with all our products, our kids wall art selection too is created to help you make and cherish memories.
Whether it is with our personalised birth details wall prints or our cheery banners with delightful phrases on them, you'll love keeping these as keepsakes, long after baby's all grown up!