Nappy Bags and Wet Bags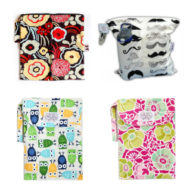 Nappy bags and wet bags are every Mum's must-have! You really can't have too many nappy bags and wet bags, especially when they're so stylish and smart!
Our nappy bags and wet bags use the best material that's not only trendy to look at but super safe for everything that you need when you're out and about!
Plus, these bags are spacious and so well-organised that you'll have everything right where you need it when you need it!
Nappies, toys, snacks, sippy cups, pacifiers, blankies, clothes and more will fit with ease into your nappy bag that looks so designer without the price tag!
BROWSE ALL Nappy Bags and Wet Bags