Pram Accessories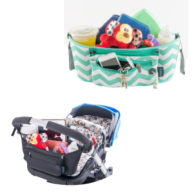 Headed out with baby? Worried how you'll juggle the stroller and everything that your little one needs? Don't be! Our pram accessories make being out with baby, literally, a walk in the park.
From stroller organisers that can hold sippy cups, your cellphone, toys and snacks to pram pegs to hang your nappy bag or shopping bags on, you'll get them all here.
Head out with baby, pram and complete peace-of-mind with our sweet pram accessories collection!
BROWSE ALL Pram Accessories