Ultrasonic Vaporisers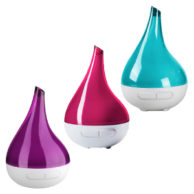 Baby care products that brim with natural, gentle, lovingness. Our stunning 5-in-1 ultrasonic vaporiser is a winter must-have for every Mum who wants her little one to sleep well through the night and keep cough, croup and colds at bay!
Ultrasonic vaporisers that diffuse essential oils, ionize the air and purify it too without wetting the walls and bedding are a blessing for Mums.
Go ahead, choose the colour you like the most for this must have baby care product and I'm sure, you'll want one for your self too!
BROWSE ALL Ultrasonic Vaporisers