Activity Idea Cards for Baby and Toddler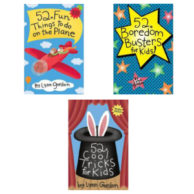 Want to keep the kids engaged, engrossed and entertained? Bring out a pack of these awesome activity cards that are filled with ideas to help babies and toddlers learn and have fun too.
Our range of educational toys for kids will delight and excite you as much as the kids and these activity card packs are no different.
With cards for activities ranging from craft time to rainy days to summer holidays and more, you're bound to find an activity cards set the kids will love for sure.