School Art Supplies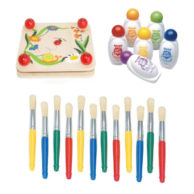 Looking to stock up on must-have school art supplies? You're in the right place!
As mum to two little artists, I know I need to have extra crayons, paints and paper on hand for their creative pursuits.
Here you'll find the best and safest school art supplies for your stationery closet. From non-toxic crayons to drawing sets to paint brushes and stamp sets, you'll get everything you need to make art and craft time fun and fuss-free for the kiddies and yes, your self too!!