Tegu Blocks for Kids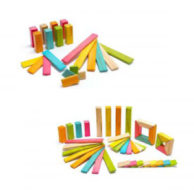 Blocks for kids, like these gorgeous wooden ones from Tegu, are a wonderful learning tool. Educational toys that are simple, yet powerful means of encouraging kids to learn, practice, experience and play are what we at Finlee and Me are all about.
Why Tegu Blocks for Kids are So Terrific
These Tegu blocks for kids are carefully crafted from eco-friendly wood and beautifully painted in water-based, non-toxic lacquers, making them an educational toy that would last for years to come.