Educational Toys for Kids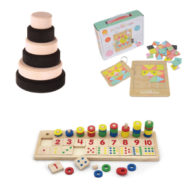 Educational toys for kids are more than just the latest parenting fad. Chosen well, these learning toys can actually help babies, toddlers and older kids learn concepts, principles and foundational elements of language, mathematics, writing, science and more.
The Best Educational Toys, Handpicked by a Mum of Two
As a mum to two, and a mental health clinician with over 13 years of experience, I know a good educational toy when I see one. As a result, every single toy you'll find here has been battle-tested by my kids and given the green signal by all of us.
From books for kids to toys that help improve fine motor skills to learning toys that encourage creative thinking and numeracy skills, you'll find them all here.
Want to read more about how educational toys can help nurture young minds? Here are our top picks: Top 10 Educational Toys for 4 Year Olds: The Best Learning Toys for Kids, Aged 4 Years, The Best Educational Toys for Babies: Top 10 Wooden Baby Toys for 2016