Educational Toys: Language Skills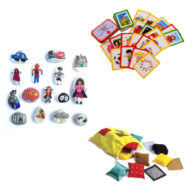 Educational toys that help kids develop stronger language skills, better vocabulary and clearer verbal expression are a must-have at play time. These learning toys are the best way to encourage little ones to identify, recognise and use words and make sentences easily and effortlessly, while having tons of fun too.
No more trying to figure out what "bebfff" means! Adorable right, but understandable, not so much!